About the picture book,"Jimmy Jonny Brownie Stays Up All Night"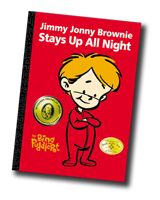 Jonathan is Bing Puddlepot, the author of "Jimmy Jonny Brownie Stays Up All Night," a book about a boy, bedtimes and natural consequences. In the picture book illustrated by Sherwin Schwartzrock, Jimmy Jonny finally gets what he's wished for "his whole life" — a chance to skip bedtime altogether. With imaginative adventures throughout the night and amusing repercussions the next day, this picture book helps children figure out bedtimes on their own. You can find more about this book at Puddlepot.com.
This book was honored as the Foreword Magazine Book-Of-The-Year Finalist (their highest honor), as received a silver Benjamin Franklin Award by the Independent Book Publishers Association.
Reviews:
Midwest Book Review, Children's Bookwatch
"…Beautifully enhanced with the lively artwork of Sherwin Schwartzrock, Bing Puddlepot's Jimmy Jonny Brownie Stays Up All Night is a unique, entertaining, and highly recommended picturebook story."
Minneapolis StarTribune
"…Words and pictures work together with great success… It's a simply presented, delightful little story that is straightforward and funny with nice characterizations. And the illustrations are a special delight."
Independent Publisher
"Retro illustrations and energetic writing make for a great bedtime story book… Bright content and skillfully crafted words make this a delightful story to read aloud as well as to listen to. Hilarious Jimmy Jonny is sure to bring a smile to any child's, or parent's, face, as we can all identify with not wanting to go to bed on time."
Good Day Minnesota, KMSP-TV
"You feel like this is one of the classics you had in your library when you were a kid… It's a wonderful, beautiful book."
Reprinted in The Baltimore Sun
Work in progress.
One of the benefits of being in two writing groups is that you do a lot of writing. I have over two-dozen picture book manuscripts and a middle grade novel, as well as another middle grade novel in progress.
"The Contraption of Elsewhen"
"The Contraption of Elsewhen" is about a 10-year-old girl who has a strange ability to find things. The skill leads her to a flying machine that's hiding on the edge of her small town. She quickly realizes she's not just meant to find the airship but where the airship needs to return, 150 years after it was left behind.